The California for All Animals Marketing and Communications team is leading its second website co-working session on December 15 from 11 am – 2 pm. The goal of these working sessions is to make what might be considered daunting work (didn't you JUST tune this site up a year or four ago?) a little more fun. Bring your lunch, bring your tips and tricks, and prepare to share both with your fellow communicators. We're diving right in, same day, and updating our websites together live. Hopefully, we'll make a few new connections and get to know each other a little better in the process.
We will meet for the final session of this cycle in early 2023. In Session 3, we'll be looking more closely at the nuances of language that can make our websites more inclusive and welcoming.
The focus of the December 15 session was Search Engine Optimization (SEO) and Web Accessibility.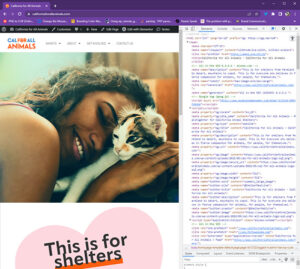 First half of Session 2: Search Engine Optimization (SEO) is the process of optimizing your website's content to improve the quality and quantity of traffic to your web pages from search engines like Google, Bing, and Duck Duck Go. Making sure your copy is clear, concise, up-to-date and uses simple language goes a long way toward optimizing the content for search engines so your potential users can find your information easily. You can also use meta-tags, which are not directly visible to users, to improve how your site appears in search results. We'll go over the basics of SEO in the first part of our meeting and you'll have time to work on your site before we move on to the next topic.
Second half of Session 2: Web accessibility is the degree to which your web content can be accessed by the largest number of users, including people with auditory, cognitive, neurological, physical, speech and/or visual disabilities. This means more than making sure your non-decorative images have alt tags and your videos have captions. We'll talk about Web Content Accessibility Guidelines (WCAG) and how they can help you make sure your message gets across to everyone who visits your web pages. Just like SEO, you'll have time to work on your site before we sign off.
We held our first session on October 27th from 11-3pm. For "The Life-Changing Magic of Tidying Up Your Website" we rolled up our sleeves and assessed our websites for usability, searchability, and accessibility.
Most of your clients visit your website before they visit your shelter. You need to make a good first impression, and you have the opportunity to provide information that can help people prepare properly to come in–or maybe avoid needing to come in at all! Plus, your website is open 24-7, even if you're not.
In this session we started our exploration of what might be missing from your site, what might be there but not easy to find or up-to-date, and what might be there that could be better phrased to inspire action and positive feelings.