More Pets and People Together Grants
The UC Davis Koret Shelter Medicine Program (KSMP) is announcing requests for proposals for the California for All Animals (C4AA) Program. We are excited to partner with you to make an impact on animal shelters and communities in California.
When times are tough for people and pets in our communities, shelter teams rally every resource and partnership to keep—and bring—people and pets together. Still, animals are entering shelters and staying there longer; fewer animals are returning to their homes or finding new ones. Families and their pets are facing complex economic, housing, and public health challenges that stem from systems built to be inaccessible to most of us, and when we go to work, we see the impact firsthand.
In this moment we can reject norms that divide us and build bridges in place of barriers. When an outdated practice, unfair policy, or oversized fee doesn't support pets and people together, we can change it. Side by side, we can create communities where all of us, no matter what we look like, where we live, or what's in our wallets, can thrive with our pets or build new bonds through fostering, volunteering or adopting.
Below are the guidelines and steps to apply for a More Pets and People Together grant.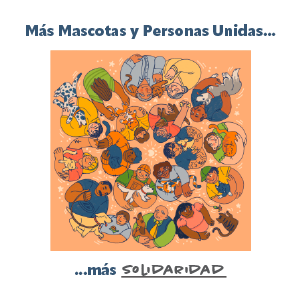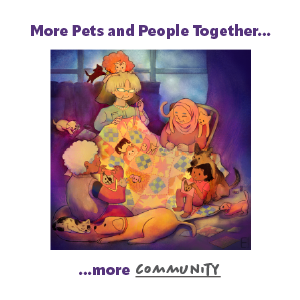 The More Pets and People Together Grants application period will be open to eligible organizations for 15 days beginning on Friday, September 15, 2023 at 7:00am PDT and ending on Friday, September 29, 2023 at 7:00pm PDT.
Applications will be reviewed by the UC Davis KSMP team and the C4AA Advisory Council. Final grant awards will be decided during the month of November and decision notifications will be sent by December.
Grant Overview
The funding priority for this grant cycle is to enable animal shelters to take the necessary steps to dismantle barriers and create processes that can lead to the following measurable outcomes:
Preventing intake and keeping pets in their homes
Decreasing length of stay of animals in the shelter
Reducing euthanasia of healthy and treatable animals
Increasing live outcomes through foster, adoption and return to home/community
Barriers often rooted in bias, fear, saviorism and colonialism have been deeply engrained in the systems that shape our lives, and animal welfare is no exception. It can be hard to detect and dismantle these barriers, which lead to often unintentional yet harmful consequences, including:
Increase in the amount of time animals spend in the shelter or in foster care
Increase in euthanasia of healthy and treatable animals
Operating beyond budgetary, staffing and housing capacity
Decrease in adoptions or return to home/community outcomes
Decrease in available foster homes or volunteers
Decrease in intake diversion opportunities
Lack of trust between shelter and community
This grant cycle will focus on removing barriers in four focus areas:
Adoptions
Foster programming
Return to home/community/field
Intake prevention services
We welcome innovation outside these focus areas in an outcomes process not listed above.
Incremental Change is Change
We recognize that sustainable change takes place over extended periods of time, and we encourage organizations to use this funding opportunity to commit to any of the following incremental changes aimed at dismantling barriers and building bridges within the community. Each organization's unique circumstances (whether it be budget, staff capacity, or general community resources) will dictate their approach.
Eligible Organizations
Animal shelters in the following categories are eligible to apply for a More Pets and People Together Grants:
Municipal shelters
Private shelters with municipal contracts
Private shelters without municipal contracts
The eligible organizations listed above must house animals in a brick-and-mortar facility and be open to the public for a minimum of fifteen hours per week for adoptions and/or return to home.
Also eligible: Animal control agencies that provide field services and animal control functions are also eligible to apply, even if they do not perform sheltering services.
If your organization does not meet these criteria, consider partnering with your local animal shelter or animal control agency or join the More People and Pets Together movement.
Funding Amounts and Grant Terms
Most grants will be funded in a range of $25,000 to $200,000; however, if your proposal is outside this range, reach out to our team and we can talk through it.
Organizations may apply for either a one-year or two-year grant term.
Application Evaluations
In an effort to promote equity, C4AA will prioritize organizations in high and moderate-to-high vulnerability communities. Organizations in low or moderate-to-low vulnerability communities are encouraged to partner with organizations with fewer resources or thoughtfully focus projects within excluded or marginalized communities.
C4AA will prioritize projects that are focused on any of the following priorities and guiding principles:
Promoting racial equity, diversity and/or inclusion for the community and/or staff members
Removing barriers for community members to access resources and services
Partnering with community members and/or other community-centric organizations to understand needs and identify solutions
Partnering with animal welfare non-profit/foster-based organizations
Partnering with human service/community-based organizations to increase outcomes and remove barriers
Shifting to a positive, resource-based perception of the shelter and/or animal control's role
Building trust between people working in the shelter and members of the community
Application Steps
Note: if this is your first application for a grant from California for All Animals, please fill out our Welcome Questionnaire first. Read more about our $5000 Welcome grants here.
Step 1
We strongly encourage you to review the More Pets and People Together Applicant Checklist in the From Barriers to Bridges Action Kit before you begin filling out the grant application.
Step 2
View and download the sample application and gather the necessary information
Step 3
Review the optional resources below or download a PDF version of the list.
Step 4
Submit your application between Friday, September 15, 2023 at 7:00am PDT and Friday, September 29, 2023 at 7:00pm PDT.
Reach out to our team if you have questions along the way or if you need to submit your application in a different format (e.g., video recording)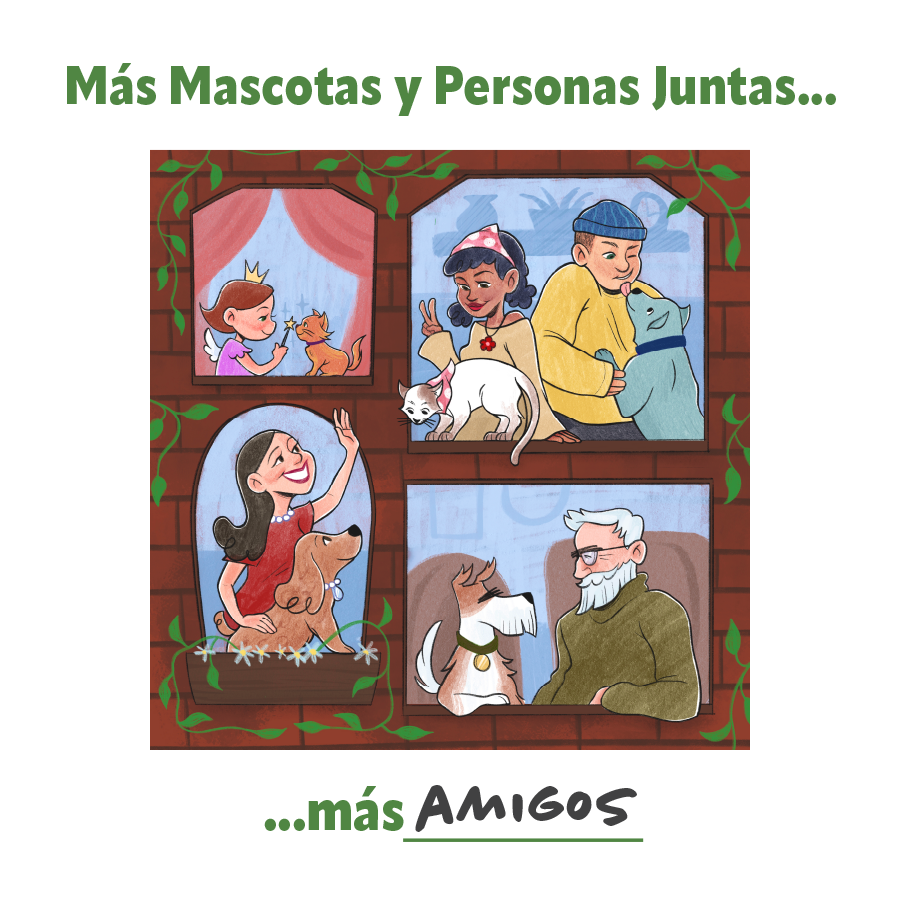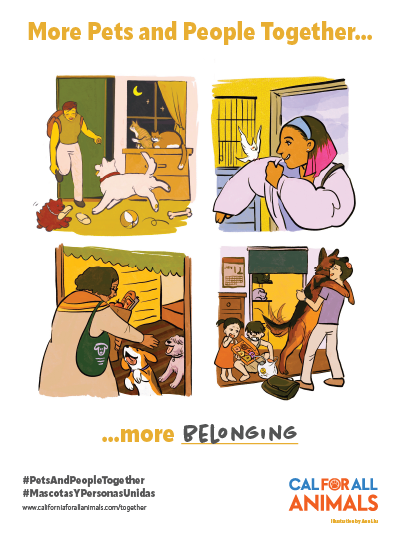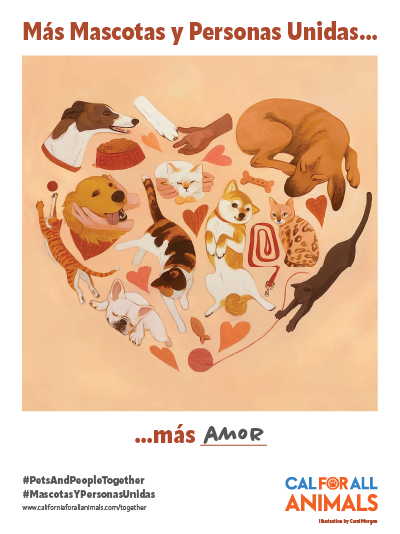 Roundtable Discussions
Inspiration on-demand from your colleagues. In this series of four dynamic roundtable conversations, frontline workers leading change across California and the country highlight collaborative approaches to removing barriers that come between people and pets and dish on creative solutions they're implementing now to ensure pets spend more nights at home, not in the shelter. Grab a seat at the table!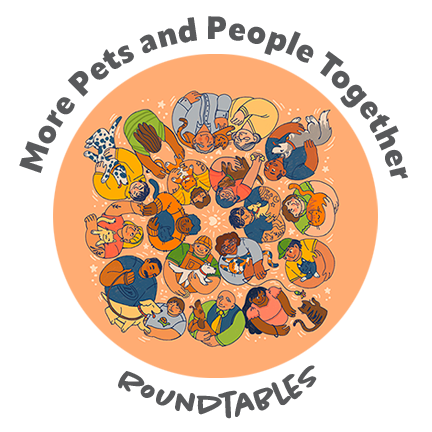 Barrier-Busting Resources
Looking for evidence that making incremental changes can improve conditions and outcomes at your shelter? Seeking new ideas or help getting unstuck from old ways that no longer serve you?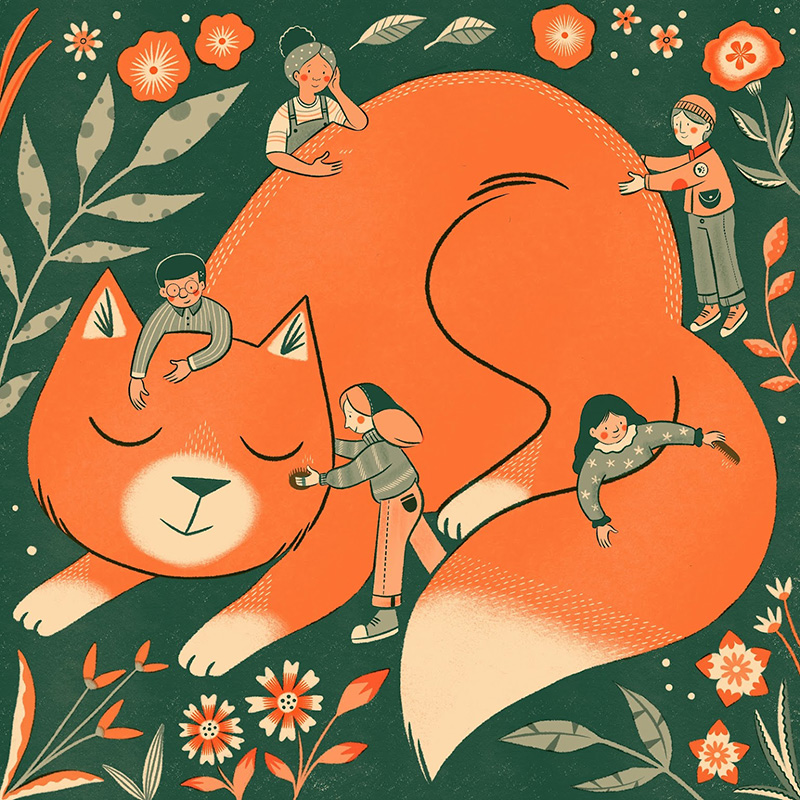 Top Recommended Resources  
We're recommending a top pick for each of the categories of this grant cycle, along with an additional one or two great resources. A downloadable guidebook to barrier-busting will be added to this page after the first Roundtable discussion.
Adoptions
Foster
Return to Home
Intake Prevention
Barrier-Busting Adjacent Topics
Professional Services and Technical Assistance:
These services are offered by organizations focused on keeping pets and people together. If you can recommend additional providers, please let us know!
Explore more resources to dive deeper: