This Year's Recipients Are Working Towards Keeping People and Pets Together
$300,0000 Granted in an Effort to Break Down Barriers That Are Causing California Shelters to Remain Full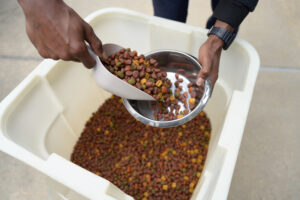 Two dozen animal shelters across California will receive grants through the California Animal Welfare Funders Collaborative (CAWFC). The collaborative, launched in August 2019 by Best Friends Animal Society, Annenberg Foundation, California for All Animals, Maddie's Fund, and Michelson Animal Foundation, offers a unique funding model created to bring about a transparent and comprehensive funding ecosystem whereby funders pool their money together to provide a more streamlined process that fosters a deeper partnership.
The most recent round of funding will provide $300,000 to California shelters bridging the gap in their communities between at-risk pets and essential care, such as vaccinations, microchips, medical services and other support services, like help securing pet housing or emergency foster care.  
The funding cycle kicked off earlier in July and will end in June 2024.
A breakdown of the grants awarded
A total of $35,000 in grants was given to Southern California organizations, including:
$10,000 to Los Angeles County Department of Animal Care and Control for resources to support their pet retention programming
$10,000 to Chula Vista Animal Services for vaccine clinics and spay/neuter for owned pets
$5,000 to City of Los Angeles Department of Animal Services for resources to support their pet food pantry
$5,000 to Heaven on Earth Society for Animals to launch their Kitty Behavior Bootcamp
$2,500 to Rancho Coastal Humane Society for for resources to support their Doggie Day Out programming
$2,500 to San Gabriel Valley Humane Society for resources to support their dog and cat enrichment program
$76,500 in grants was given to organizations in Central California, including:
$15,500 to Kings County Animal Services to support their Return-to-Owner programming in shelter and in the field
$10,000 to City of Bakersfield Animal Control to support spay/neuter and identification for owned pets
$10,000 to Inyo County Animal Services for TNR of their community cats
$10,000 to Friends of the Animal Community for their Seniors for Seniors program that pulls senior dogs at risk from other shelters
$10,000 to Kerman Police Department for their TNR and Surrender Prevention programs
$7,500 to Animal Shelter Assistance Program (ASAP Cats) for intake diversion through medical care for owned and community cats
$7,500 to Visalia Animal Services for TNR in their contracted cities
$6,000 to Bakersfield SPCA to increase Return-to-Owner rates with ID tags
$188,500 in grants was awarded to Northern California organizations, including:
$60,000 to Siskiyou Humane Society for a van to continue operations
$40,000 to Stanislaus Animal Services Agency to enhance their clinic capabilities through equipment modernization to better support their community
$24,000 to FieldHaven Feline Center for their Kitten Sitter Program that diverts kitten intake
$18,500 to Tehama County Animal Services for their monthly vaccine and microchip clinic for owned pets
$10,000 to Rancho Cordova Animal Services for community support helping owners retain their pets
$10,000 to Nine Lives Foundation to launch a HQHVSN training program for local vets
$10,000 to Friends of the Alameda Animal Shelter (FAAS) to support their Skyla Fund (medical services for pet retention)
$7,000 to Town of Truckee Animal Services for intake diversion through services to the community
$5,000 to Cat Town to expand their Kitten adoption program in retail locations
$4,000 to Contra Costa Humane Society to support their county shelter with kittens