More Pets and People Together…


…more
PLay
Meet Artist Erika Ilumin Wahlberg
As part of our More Pets and People Together campaign, we're asking community members inside the shelter and out, "What do communities look like when we're stronger side by side? What does More Pets and People Together mean to you?" Together we're envisioning and creating communities that keep and bring pets and people together, places rooted in mutual care, joy, and connection, where everyone belongs. Artist Erika Ilumin Wahlberg tells us more about her vision and why building bridges and removing barriers to keep pets and people together is important to her. 
What drew you to this project?
I may not be an illustrator whose expertise lies with animal art, but the focus on community bonds really resonated with me!
It's also important to address barriers for pet owners when it comes to affordable vet care. I remember the panic I felt the one time I called an emergency vet clinic on behalf of a friend, and wondering if my friend's dog would be okay to wait for a day or if it would be "worth it" to go to the 24-hour clinic and possibly take on expensive fees we couldn't afford. Luckily his pet was okay to last the night before seeing his regular vet, but I know if the situation was more dire and he didn't have the money to spare for emergencies—it could easily have been more stressful.
How have animals impacted your life?
Though I don't have a dog of my own, I have spent many weeks dog-sitting for my aunt.
Her dog, Maile, is a really sweet Shih Tzu and Lhasa Apso mix. When I got knee surgery and was stuck on the couch for an entire week, she would lie on the floor in front of me the entire time—the tiniest guard dog! I felt very helpless at that time, so it was always comforting to see that she was always there watching how I was doing.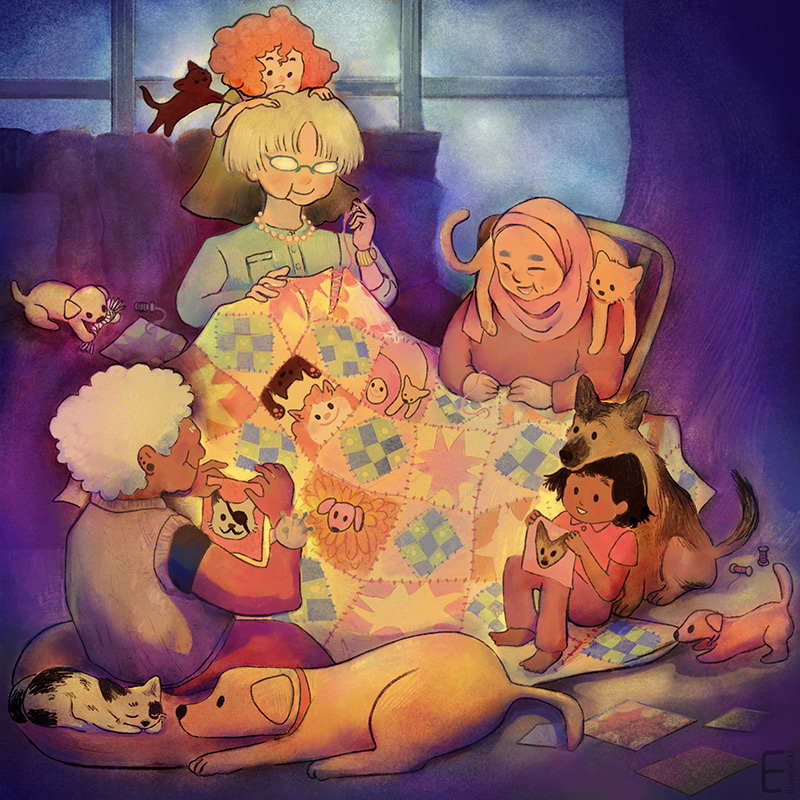 How would you complete this sentence? More pets and people together, more _____.
More pets and people together, more play! The bonds we have with our pets, I think, reflects the best part of our human qualities: unconditional love. Pets create connections through play, which is something we forget how to do the older we get. Pets remind us to care for each other for the sake of caring, and to remember to play with each other no matter what age we are.
Playing with one another is how we become stronger as a community. Play is the way we connect with pets, and I hope we carry that over in bringing play into our relationships with people!
What do you hope your art inspires in the world?
I hope that everyone could see themselves, or someone they love, in my art. I hope that they think of the pets and people in their life and feel like they're part of something greater.
Everyone deserves to feel like they're part of something. In the case for this work, part of the quilting circle!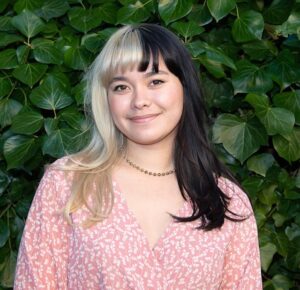 Erika Ilumin Wahlberg is a California based writer-illustrator with a love for fantasy and everything delightfully strange. Her work centers around stories with happy endings because she believes that dreaming of a better future is how we can imagine solutions to reach it. To see more of her work visit eilumin.com and follow her Instagram @eiluminart.