More Pets and People Together…
…more
COMFORT
As part of our More Pets and People Together campaign, we're asking community members inside the shelter and out, "What do communities look like when we're stronger side by side? What does More Pets and People Together mean to you?" Together we're envisioning and creating communities that keep and bring pets and people together, places rooted in mutual care, joy, and connection, where everyone belongs. Artist Jade Howe tells us more about her vision and why building bridges and removing barriers to keep pets and people together is important to her. 
What drew you to this project?
Growing up, I didn't want to be an artist, I wanted to work with animal shelters. I wanted to work for San Diego Humane Society, where I adopted all my pets. After I became an artist, I didn't think I'd be able to work for animal welfare or nonprofits. When I heard about this project it was electric, I was like, "Yes! Finally, an opportunity to support something I really love while doing something I really love." I pounced on it!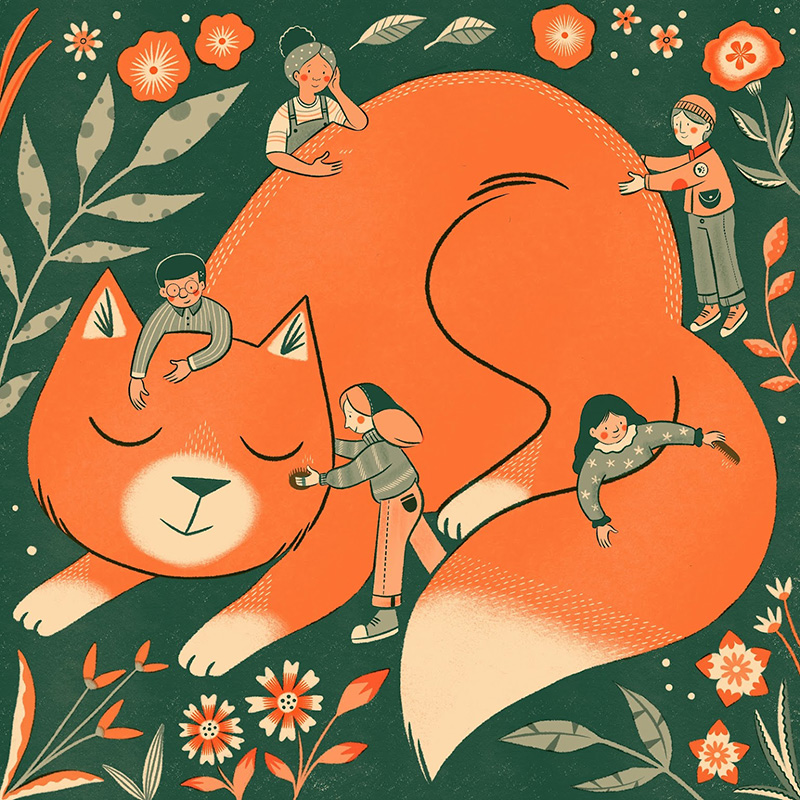 How did you know you wanted to work with animals as a kid?
You know how every kid has a thing they're very infatuated with and they learn everything about? I was an animal kid and my thing was dogs. And so I learned about like every breed of dog and I would quiz myself by identifying different dogs whenever I would go walking around. Growing up in San Diego, we had the San Diego Humane Society, which is a really great animal shelter and a very special place. Some of my family worked there, and I ended up with three dogs. We had a little side yard, and I would play with them and they were my best friends. I was a very anxious kid. They were so comforting and lovely, and so my parents kind of encouraged it. I also had tortoise and a couple of cats, and then I would find tarantulas in the yard they would let me keep them sometimes. They were very supportive parents!
Artist Jade Howe describes her childhood dog Roscoe's "relentless love."
Your art beautifully depicts a point of view about community cats and the way they care for and are cared for by many different community members. Where did your inspiration come from?
Again, San Diego Humane Society is a special place and where a lot of my influence comes from. There's this place in San Diego, Dog Beach, where I used to take my pups and hang out a lot. There's this bluff covered in rocks and there's this massive stray cat population. So, it's almost like an island with dozens of stray cats. If you sit and watch it for a couple of minutes, you can see them pop out and live their life and eat small crabs. I always thought it was so neat. I'd think, should we try to go pick one up or take it home or report it? But it was unanimously understood that you leave them be and let them live their lives. Some people would trap them and get them spayed and neutered and some people would leave food, but otherwise they were just really happy, really healthy cats and we knew there was no need to mess with them. I mean, they roamed around eating small critters from the ocean and living on the beach in San Diego.
They do have great lives.
I wanted to capture that community aspect of everyone coming together to support the cats. It really does take a community to support pets and animals.
Speaking of community, how do you think those relationships, those bonds, with animals benefit us and our communities?
When I think about animals, what comes to mind is their comfort. That's one of the things that draws me to them the most. I find them deeply, deeply comforting, and soothing. I think that's the power of having a connection with them. They are very grounding.
When I was growing up, if I was having a really rough day and couldn't talk to anyone, couldn't talk to my parents, because it was just too much overwhelm, I'd just go sit in the yard, and they'd come and drape their head across my lap. It just calms you down to be able to eventually get up and brush yourself off. You don't have to explain yourself, and I think there is something really lovely about that.
Jade talks about her uncle's support dog, a scrappy pug he named Sammy.
Have you ever experienced or observed barriers that have made it hard for pets and people to come together or to stay together?
Yes, I'm currently stuck with a situation where I can't have a pet. I find that really devastating because I live in San Francisco and in San Francisco, pets pay rent. You have to pay an extra $50 to $100 a month to have a pet, and that's a lot of money for someone like me. That's a lot of meals. And so I'm currently not able to have a pet, even though I want one so badly. Recently at Pride I was holding these dogs up for adoption, and I wanted to take one home. It's just devastating that I can't. I think if you want to love an animal, you should be able to. It makes me think of the times one of our animals was picked up, and we were fortunate enough to be able to pay the fees to get them out, but I can't imagine if we weren't, and then just losing that connection with your creature just because you couldn't afford it. I really appreciate people who adopt animals that need extra care and go that extra mile for that elderly animal or that little guy that needs a wheelchair. I'm not able to provide that kind of care, and I'm grateful for those who do. It's a privilege to be able to care for an animal and a privilege to be able to pay for their vet bills. It's a privilege to even have the time to come home in the day to let them go out and relieve themselves. A lot of us just don't have that.
Jade, how would you complete this sentence? More pets and people together, more _____.
More pets and people together, more comfort. For sure.
Comfort for all!
Everyone deserves the chance to love and be loved by a creature that really needs it and really appreciates it.
And that's what I hope my art inspires. A little nostalgic reflection to want to experience something again. A little more kindness, a little more comfort for us all. I want to be a part of the community that this cat cultivated!
Jade Howe is a San Fransisco based illustrator who strives to make work that appreciates the little things. She graduated from California College of the Arts with a degree in Illustration.