Up and down the Golden State, shelters and their partners are expanding high-quality, high-volume spay and neuter surgeries and training.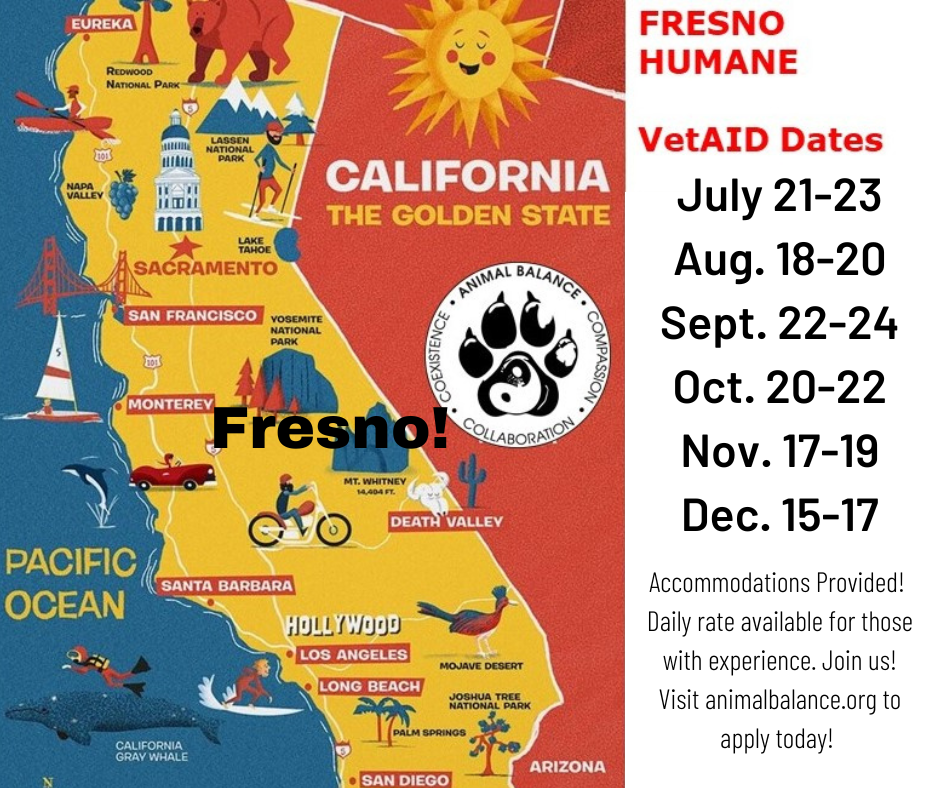 Animal Balance Brings HQHVSN to Fresno
Thanks to a Sniptember grant and global NGO Animal Balance, Fresno Humane will be spending the second half of 2023 clearing their spay/neuter backlog of hundreds of shelter animals. In a monthly series of three-day "VetAid" High-Quality, High-Volume Spay/Neuter (HQHVSN) clinics, Animal Balance will provide equipment, RVT training and about 200 surgeries per visit from July through December in Fresno Humane's facilities. It is hoped that as the shelter's surgical backlog becomes manageable, services will expand to include surgeries, vaccines and anti-parasite treatments for community pets or TNR.
Over the last three years, Animal Balance has established "consistent and sustainable MASH-style veterinary care in communities across the south and southwestern United States." California for All Animals leadership is making introductions to encourage partnerships between AB and Central Valley shelters beyond Fresno.
Animal Balance is looking for RVTs and vet assistants experienced in spay/neuter to participate in the Fresno clinics. Stipends and housing will be provided. Anyone who is interested can click this link to sign up on their website!
San Diego Humane Offers Mentorships in Southern Cal Counties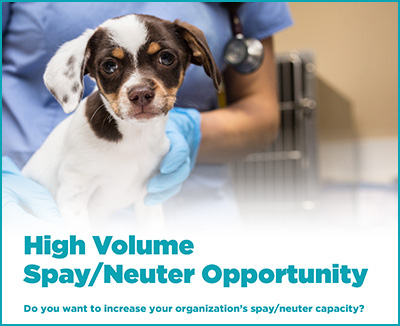 Meanwhile in SoCal, the San Diego Humane society is using its Sniptember grant to provide spay/neuter & HQHVSN mentorship to shelters in Riverside, San Bernardino and Imperial Counties. Their surgical team can travel to partner shelters to:
Perform spay/neuter surgeries for animals in your care
Provide training in high-volume spay/neuter to your staff
To learn more or to schedule a visit from their team, contact Sarah Davis, Shelter Spay/Neuter Consult Manager at sdavis@sdhumane.org.
CAMP/Sonoma Humane Partnership Unites SoCal and NorCal Orgs to Expand S/N Efforts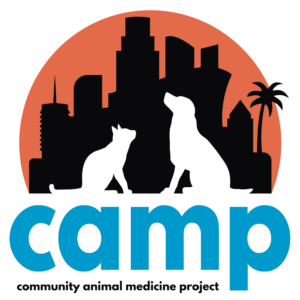 And in an alliance that bridges north and south, L.A.-based Community Animal Medicine Project (CAMP) is expanding their Veterinary Training Project (VTP) initiative in partnership with the Humane Society of Sonoma County. Funding including scholarships and travel stipends for qualifying California veterinary professionals to attend CAMP's VTP will be provided to remove barriers to training in essential surgical and clinical techniques that will help alleviate the overburdened animal shelter system in California. The three-year, $704,000 Sniptember grant provides increased access to training to an estimated 60 veterinary professionals who will take their skills back to animal shelters or non-profit arenas.
"Our RACE-certified veterinarian training program provides hands-on surgical experience for licensed California veterinarians. Half of our VTP's seventy-plus graduates have gone on to work as veterinary surgeons at CAMP or work at other nonprofits and shelters, demonstrating the effectiveness of this program," said Dr. Zach Deegan, CAMP's VTP Medical Director.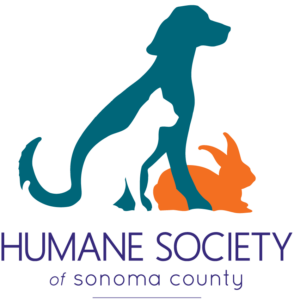 "The HQHVSN VTP is set to make a profound impact on reducing shelter populations and unnecessary euthanasia," said Albert Escobedo, Director of Veterinary Operations at HSSC. "In collaboration with CAMP (Community Animal Medicine Project), we are not only expanding access to spay/neuter and basic veterinary services but also actively training veterinarians in HQHVSN techniques…This collaborative effort will help us save countless lives, enhance animal care, and build a more compassionate society for all animals."
"This partnership is a perfect example of what is possible when Californians put our heads and our hearts together," added Nadia Oseguera, California for All Animals program manager. "Through this collaboration, barriers are removed, equity is built, access to High-Quality, High-Volume Spay and Neuter training is expanded, shelter intake is decreased, our statewide capacity to care for each other grows, and, ultimately, more California pets and their people stay together, stronger, side by side."