Together with her husband, Marvin Adams, Margaret Wagner has opened her door and her heart to dogs in need of a home again and again. Whether it's a Craigslist or Facebook post for a dog seeking a new home or a temporary place to stay, Margaret answers, and while a dog is in her care, she gives them all she's got. There was the time she turned a malnourished farm dog around with chicken and rice. Or the time her daughter saw a German Shephard puppy left in the park and asked, would she be able to take her in?  
And then there is Coco.  
Margaret met Coco's first family via Facebook; they'd had to leave their home but hoped to find another within a year, and they needed a longer-term foster for their Rottweiler. Margaret said yes, even as she knew it would be difficult to bond with Coco only to lose her. If she could help her avoid the stress of entering a shelter and ease the family's transition, it would be worth it.  
The connection was immediate, especially between Coco and Marvin. Even Tinkerbell, Margaret's Chihuahua, approved. Coco's family saw it too, and after several months, which included occasional weekend visits with Coco, they asked Margaret if she would like to adopt her. Again, Margaret said yes, "in a heartbeat."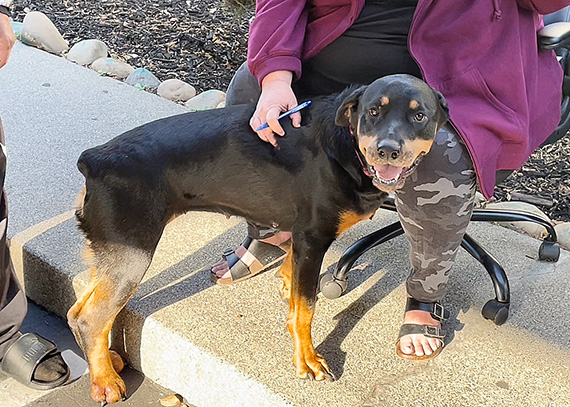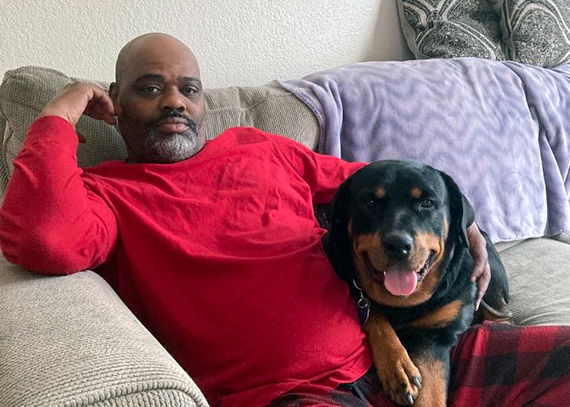 Determined to find help with vet care for her family's dog Coco, Margaret searched for resources far and wide until she connected with Animal Services Officer April Stevenson. Thanks to Margaret's perseverance, Coco is now back to cuddling with his favorite person, her husband, Marvin. (Credit: April Stevenson, left; Margaret Wagner, right.)
Coco proved to be a constant in a year of challenges: Margaret lost her job, and Marvin, who was diagnosed with congestive heart failure, began wearing a LifeVest to lower his risk of cardiac arrest. Coco, now registered as a service dog, never left his side. Then Margaret noticed sudden swelling in Coco's back paws. A trip to the vet confirmed Coco would need further testing to pinpoint the cause, but the cost was out of reach.
Like many Californians struggling to find affordable veterinary care while availability shrinks, Margaret searched for support, determined to get Coco the treatment she needed, but came up against more barriers. "I had a notebook with four pages full of websites and agencies," she says. "I applied at so many and got rejected from so many that it was heartbreaking, you know?"
In the living room with her husband, Coco resting on her favorite loveseat, Margaret realized to get Coco help, they would have to give her up.
"I just looked at her, and I said, 'I can't do this anymore, babe. I can't.' I just started crying and I said, 'I can't watch her suffer.' She had lost weight, and she had stopped eating, and she could barely walk. She wasn't her happy-go-lucky Coco. I said, 'We have to surrender her as much as we hate to.' It was the hardest decision I've ever had to make in my life." 
She called 311 and was forwarded to Rancho Cordova Animal Services' voicemail. It was 9 p.m. on a Saturday. Margaret didn't expect to hear back, but then Animal Services Officer April Stevenson called. She listened to Coco's story and said yes—not to transferring her to the shelter, but to teaming up with Margaret and Marvin to make sure Coco received the treatment she needed that weekend, thanks to Rancho Cordova's Community Support Program. The program, established with funding from a California for All Animals grant, is one example of animal services agencies, shelters, and communities tackling systemic barriers that separate families and lead to pets who already have homes entering shelters.  
"[This situation] started out sad, and it turned into this beautiful thing so quickly, all because of the grant," says April. 
After a trip to the emergency vet and medication to address the infection, Coco is back to her happy-go-lucky self, and she's back at Marvin's side. "She follows him everywhere. She lies either on the floor next to his side of the bed, or she'll sleep at the bottom of his feet." Margaret laughs. "Or if he is more towards the middle on my side, then she'll lay right next to his side. That's just how she is. That's his baby." 
Stronger Side By Side: Meet Coco
Margaret Wagner reflects on what it means to have Coco in her family.
On how she'd describe Coco to someone who'd never met her
A big, giant teddy bear. A heart of gold.
On Coco's favorite games
I took her to get her one-year booster [at the animal shelter]. They have toys, leashes, harnesses, cat stuff. So they gave me some tennis balls, and there was also this wishbone. She hasn't been able to chew through it yet, and she loves it. That's her favorite toy in the world. My husband will take her to the park, and they'll play tug of war, Frisbee, tennis balls.
On Coco providing comfort during difficult times
My husband ended up in the hospital shortly after we got her. When the paramedics came that day to get him, it was all I could do to keep her in the room. She was almost tearing my door down to get back out here with him. And when he came home from the hospital—she doesn't leave his side—she was even more connected with him. I knew that she knew that there was something wrong with him.
On Coco's happy dance
She jumps up on her back legs and barks. Her tail is this tiny stub, so when she gets excited it'll stick up a little bit, and her whole back end shakes.
On rituals and greeting her dad
As soon as Coco hears that particular truck and trailer come in here, she knows. She'll be asleep on the loveseat and then her head will pop up. She'll listen, and then she'll run to the door and start whining. Her little tail will just be shaking. And as soon as he comes in the house, man, she's jumping on him. Daddy, daddy, daddy, daddy! He'll sit down and take his shoes off, and she'll sit on his feet and nudge at him, and she'll give him kisses. And it's funny because she doesn't really lick you; she'll put her cold nose on you.
On a joyful moment
It was about three weeks after we got her and Marvin had to go to work. He had the LifeVest on at that point, and he sat down to put his shoes on, and she wouldn't let him put his shoes on! She wouldn't let him walk out the door. She grabbed [a shoe] by the shoestring and took it away. I had never laughed so hard in my life. My husband goes, 'Coco, bring me my shoe.' And she came out of the room without a shoe, like, I don't know what you're talking about, Dad, and then she jumped on his lap and wouldn't move. I was like, Coco, Daddy's gotta go to work! And she just looked at me like, I don't know who you're talking to.
On finding out Coco wouldn't have to enter the shelter to receive care
I just bawled. And I looked at my husband and I said, Honey, God is good all the time, because he is really, really with us right now. I told him why, and he just started crying. We looked at Coco and it was like, I think she knew after he started crying. I think she knew that it was all gonna be okay, because she jumped up like there was nothing wrong with her, and she just got happy. She was giving him kisses, like, I'm gonna be okay, Dad. Don't cry. It was like she knew at that moment that she was gonna be better.
On the three best things about having Coco in the family
The companionship, the love. And then my husband has to exercise for a certain amount of time during the day, and she gets him up to go for a walk. She motivates him.
On why every community needs a program like this
There's been plenty nights where I've cried just thinking about it. I have a reminder every day because I look at her, and I see that she's gotten better, and I've got my Coco back. There are going to be other animals, other families that are in a hardship like me and my husband, and there's a chance that they're not going to lose their loved one, like we didn't lose Coco.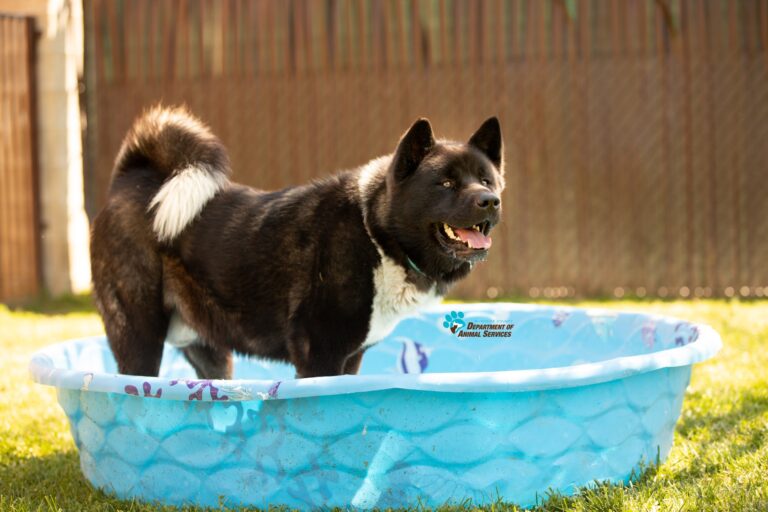 Approximately 225 miles east of Los Angeles and 150 miles west of Phoenix, located inside of Riverside County and flanked by the Colorado River, you'll find Blythe, California, a rural desert town named after the San Francisco financier who established water rights to the region. You'll also find John Bush, sole animal control officer for Blythe's animal shelter, collaborating with residents and visitors to craft solutions for challenges both anticipated and unexpected.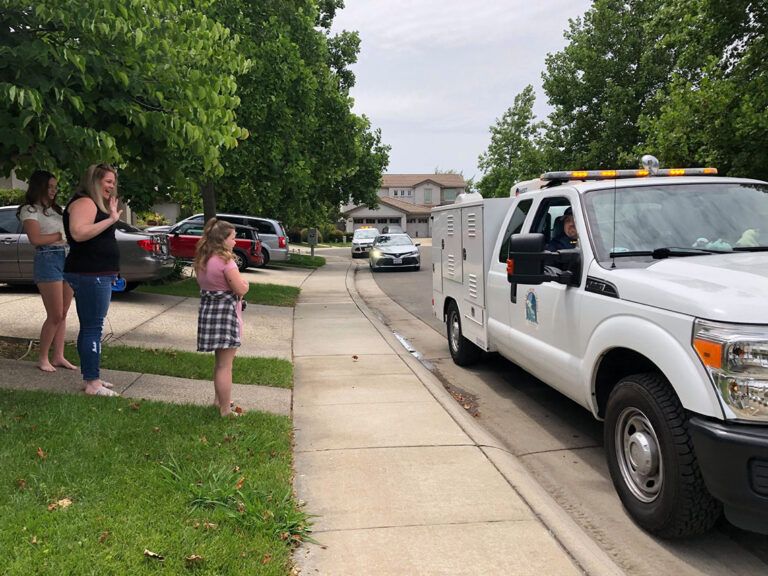 At a time when many families lack access to essential resources that build health and well-being for themselves and their pets, Rancho Cordova Animal Services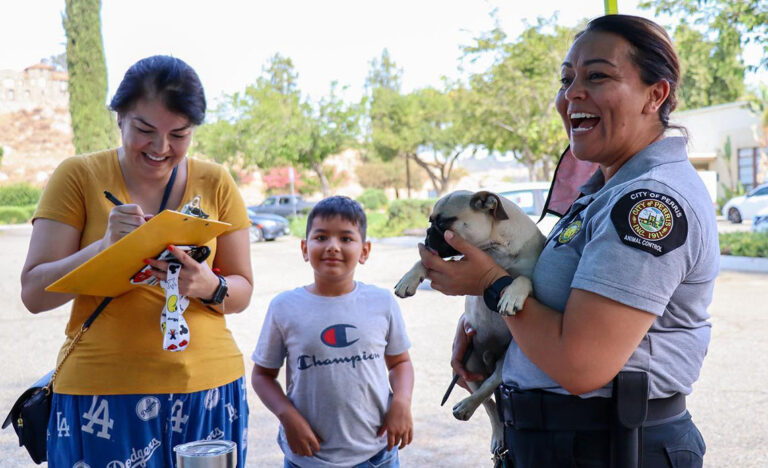 In 2014, Christina Avila was burned out. She took a hiatus from animal welfare and reluctantly returned a year later, when she joined the City