More Pets and People Together…
…more
community
What the "Pizza Co Cats" Taught Me About Community
This month marks the launch of our More Pets and People Together campaign, and we're asking community members inside the shelter and out, "What do communities look like when we're stronger side by side? What does More Pets and People Together mean to you?"
California for All Animals Program Manager Nadia Oseguera introduces the campaign and reflects on the word and action at its heart: Community.
I first joined animal welfare as a kitten foster. My partner and I were picking up food from a pizzeria when we encountered a group of cats living outside the strip mall just a few blocks away from our local animal shelter. They were wisely hanging out near the garbage cans behind the businesses, robust enough to indicate they'd been looked after and were dining on more than just scraps. We saw cans of cat food and bowls of water, and later we'd meet the kittens tucked away in the bushes, the ones who would end up coming home with me.
But first, in the businesses and surrounding homes, we met the community members caring for the cats while working and living in the area. Some were feeding the cats; others were actively trying to get them altered, or fostering the kittens and placing them in adoptive homes. They told us spay/neuter resources were scarce, and they'd been taking the cats one or two at a time when a spot opened up at a mobile clinic. We connected with FixNation and another organization that let us borrow traps, and the business owners, neighbors, and my partner and I launched a coordinated effort to trap, neuter, and return multiple cats at a time over a series of nights. Together, we altered the rest of the pizzeria cats and found fosters for the kittens. After that, business owners were more than happy to be on alert for any newcomers.
A couple years later, I started working for a foster program based out of the animal shelter near the same pizzeria. I quickly learned that kitten fostering was as much about the people as it was about the kittens. Every time I sent kittens or cats to their foster homes, I experienced the joy of facilitating an animal-human connection, and it was especially rewarding when it was with a first-time foster. I was uplifted not only by offering them support and grace as they were learning the ins and outs, but also by connecting them to hundreds of foster caregivers linked by their love of all things cat. They offered one another consolation after the loss of a kitten, shared caregiving advice and joined together to find adopters.
Once I'd been a novice foster taking on the challenge of learning too, and I knew that the more accessible fostering was, the more people would be able to help, and the more kittens we would be able to help together. Welcoming fosters into a larger community was part of that.
More Bridges, More Community
While circumstances vary from county to county, I often hear how receptive your community members are when you invite them in by offering low-cost or free spay/neuter, translating materials to other languages, or reducing or waiving fees…and more. It's indisputable that animal shelters carry a lot of responsibility on behalf of their communities — you're often tasked with covering a huge service area. However, when barriers are replaced with bridges, it signals to people outside the shelter that there is an opportunity for a collective effort to address the needs of the animals in the community.
Our More Pets and People Together campaign and upcoming grant cycle will help shelters in California continue your important work of lowering barriers and building bridges by providing critical tools and funding to support the shifts you're making one step at a time, during a challenging time. I hope you'll share the campaign page and calls to action with your community and municipal stakeholders to reinforce your efforts; request a communications kit with colorful posters, buttons and stickers to share inside the shelter and out; get involved in a statewide art contest to win $5k for your shelter, and gather with your peers to celebrate the meaningful work happening across the state and country in our series of virtual roundtables.
Removing barriers is not one-size-fits-all, and it'll look different depending on each shelter's circumstances or available resources. With each incremental change and barrier removed, there is a new opportunity to facilitate an animal-human connection and build trust and partnership with community members, business owners and organizations.
When I think about reducing barriers to outcomes to welcome in more fosters and adopters, I see those thriving cats outside the pizzeria and their tiny kittens peeking through the bushes. I see the entire network of community members who had already stepped in to make sure they would be okay, and what we accomplished together. Out of a desire to protect animals and ourselves, it can be easy to assume people don't care about the animals living alongside them, and this fuels the establishment of barriers that prevent people from accessing services or experiencing the joys of bringing an animal home. In reality, just blocks away from a shelter, this community of compassionate caretakers, fosters and adopters was already taking matters into their own hands to keep free-roaming cats healthy in their home and help kittens find new ones.
And when I think about what More Pets and People Together means to me, I think about community — as both a place in which people co-exist and the act of being in community with others. When we assume most people do care and want to help, we can truly be in community as we all work together to keep and get more animals home. I'm grateful to be in community with all of you, and I'd love to know: What does More Pets and People Together mean to you? What steps is your organization ready to take to strengthen community, and how can we help?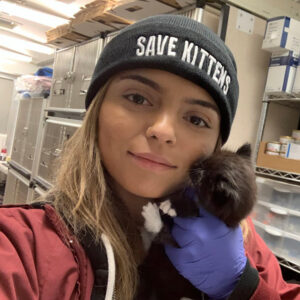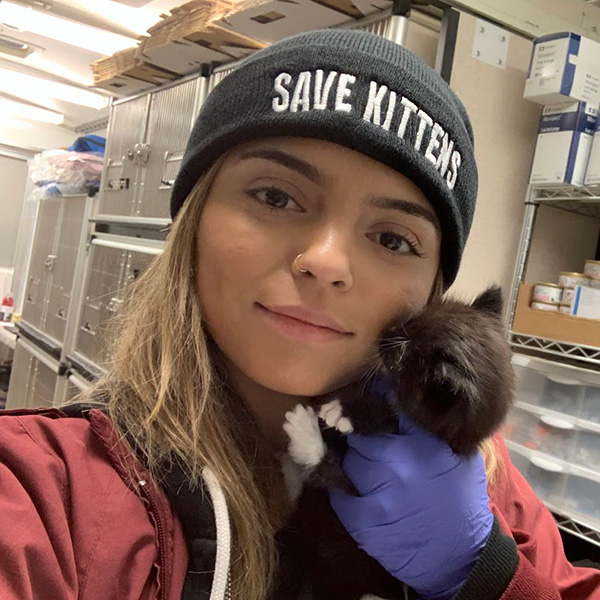 Nadia Oseguera joined the Koret Shelter Medicine Program (KSMP) in September 2022 as California Program Manager. Her desire to help animals combined with her profound understanding and appreciation for people's diverse experiences and motivations encouraged her to pursue a career in animal welfare.
During her five years with the American Society for the Prevention of Cruelty to Animals (ASPCA), Nadia managed a high-volume feline foster program in collaboration with the Los Angeles County Department of Animal Care and Control (DACC).